Gavin Esler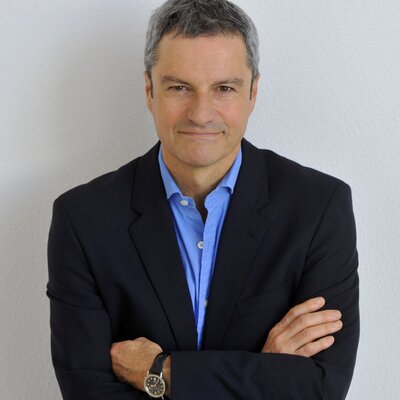 Praise for 'How Britain Ends'
"In the coming years, many people will be writing about the end of the UK. They'll all quote this wonderful and curiously moving book. I know I will."
James Hawes, author of The Shortest History of England'
"Both timely and provocative."
Alex Massie, The Sunday Times
"Esler ... has written a fascinating book that draws on poetry, literature and on-the-ground reporting."
Iain Martin, The Times
blue line

Gavin Esler is an award winning broadcaster and podcaster, journalist and writer. He is the holder of a Royal Television Society award, a Sony Gold (radio) award, and two Lovie awards for his podcast series about Vladimir Putin, The Big Steal, which has also been nominated for the 2021 Webby Award for Best Documentary Podcast. He is author of five novels (Loyalties, Deep Blue, The Blood Brother, A Scandalous Man and Power Play) and four non-fiction books (The United States of Anger, Lessons from the Top, Brexit Without the Bullshit and How Britain Ends.)
Lessons from the Top was inspired by Gavin's own conversations and interviews with numerous heads of state & world leaders, these include Bill Clinton, Angela Merkel, Tony Blair, Margaret Thatcher and many other accomplished communicators ranging from Dolly Parton and Angelina Jolie to leaders of terrorist groups. The book examines how successful leaders tell stories to educate, persuade and bring about change. Gavin is often invited to  discuss these lessons with business, military and public sector leaders.
Gavin is known for his reporting and presenting work at the BBC, and has been the main presenter on Dateline London on the BBC News Channel and BBC World and numerous other programmes, including Hardtalk. He left the BBC in 2018 and is now a freelance journalist and writer.
Formerly Gavin was the BBC's Chief North America Correspondent for eight years, based in Washington and frequently reporting from the White House mostly during the Clinton presidency. He has also reported from countries as diverse as China, Peru, Argentina, Cuba, Brazil, Russia, Jordan, Iran, Saudi Arabia and from the Aleutian Islands, as well as all across Europe. On returning to the UK, he joined the presenting team on the BBC's flagship news and current affairs programme Newsnight. He is a voting member of BAFTA, Chancellor of the University of Kent and a visiting lecturer in various academic institutions, large corporations, and public service organisations including the British military. Gavin took on the role of moderator for the 2017 How to do Good charity-speaker tour in Oslo, Stockholm, The Hague, Brussels, Paris, London and New York.
In his most recent book How Britain Ends (February 2021) Gavin explores the possibility of the United Kingdom of Great Britain and Northern Ireland reinventing itself or, as the title suggests, coming to an end. The book examines what "being British" might mean in the 21st century – if anything – and whether the UK, which has reinvented itself every century since 1603, can begin a further restructuring for the 21st century. The challenge to unionists is to find new structures to keep the United Kingdom together. The challenge to nationalists is to ask themselves what "independence" really means in an increasingly inter-dependent world. Drawing on Scottish, Irish, Welsh and English literature and culture, Gavin asks whether a federal structure could in the end save the union or whether what he calls "the elephant in the bed" – England itself – may itself ensure that the competing nationalisms on these islands mean the United Kingdom is inevitably coming to an end.