Amber Butchart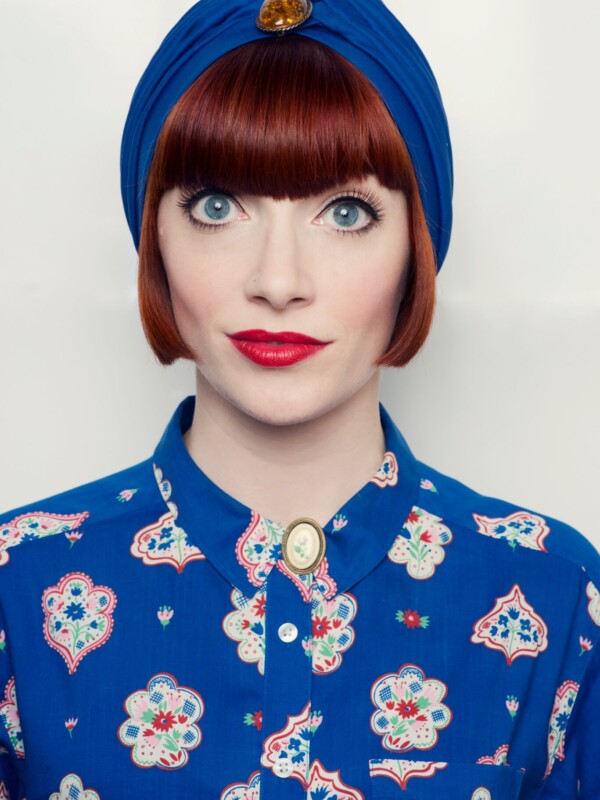 Testimonials
Amber is a brilliant, knowledgeable, and captivating speaker! Our audience absolutely adored her smooth and graceful speaking style, as well as the rich photos included in her presentation. She was a delight to work with and host from start to finish! - Catherine Esrock, Public Programs Manager, Vero Beach Museum of Art
blue line

Amber specialises in the historical intersections between dress, politics and culture using textiles and fashion as a way to gain a great understanding of the past. Her hugely popular BBC Four series A Stitch in Time, described as "mesmerising" by the Radio Times, fused biography, art and the history of fashion to explore the lifestyles and fashion of historical figures. Amber presented a six-part YouTube series of historic make-up tutorials for English Heritage which won the Grand Prix Prize at the 2019 YouTube Works Awards and co-hosted the podcast FASHIONED with Radio 1's Clara Amfo, looking at the relationship between clothes and social/cultural movements.
She also made Civilisations Stories: The First Refugees for BBC One and BBC Four, about the Huguenot silk weavers of Spitalfields for the landmark BBC Civilisations season and has been the regular fashion expert on Channel 4's The Great British Sewing Bee for the last few years. On top of being a regular guest on BBC Radio 4's Women's Hour, Amber made a two-part documentary for the station tracking the rise of vintage clothing and the global ramifications of secondhand style (see here for more). She has also written several books on the perennial influence of nautical dress and the impact of film on fashion, and she is regularly asked to speak at the UK's cultural hotspots from the Tate to the V&A.
She is a National Crime Agency External Advisor as a Consultant Forensic Garment Analyst, working with Alecto Forensics on cases that require clothing and textiles to be dated. Amber is a former Research Fellow at the University of the Arts London, and has penned articles for publications including The Guardian, Times Literary Supplement, Financial Times, Icon and The Pool. She is a regular contributor to Frieze, writing on dress and design.
Amber began her career as the Head Buyer and Trend Analyst for international vintage clothing company Beyond Retro. During this time she was interviewed for The Observer as one of the fashion world's best buyers and photographed for Vogue as a girl with great British style. She established the Beyond Retro Design Archive which sells vintage inspiration pieces to global fashion houses, and she was a contributor to leading trend forecasting company WGSN. She has also worked as a design consultant for fashion brands.
Amber is available to write features and contribute to TV or radio productions on many aspects of fashion & beauty history. She has also worked with top brands such as GHD and YSL Beauté, lending her historical expertise to their public campaigns. She is a Fellow of the Royal Society of Arts, a trustee of the Costume Society, a member of the Royal Historical Society and a mentor for the charity Arts Emergency.